If the word wordneighbors, mentioned herein, was a word in the Oxford English Dictionary, its wordneighbors would be word-mongering and word of mouth. Sounds right.
Words Spied
boomerang pom n. A British citizen who returns to Britain after having moved to Australia. [BBC] [Pom (short for pommy) is a derogatory Australian slang term for a British immigrant to Australia (or sometimes Brits in general). The origin in unknown. The OED speculates, unhelpfully, that it comes from pomegranate. There is no evidence for the folk etymology that it's short for "Prisoner of His/Her Majesty" or "Point of Migration."]
dadverb n. A technical term used incorrectly by a clueless parent. [Twitter]
pedestrian flypaper n. An adhesive on the front hood of a car that causes a struck pedestrian to stick to the hood and thus avoid further injury. [Twitter]
"Adhesive vehicle front end for mitigation of secondary pedestrian impact." U.S. Patent 9,340,178
wordneighbors n. Words that appear consecutively in a dictionary or similar lexicon. [Twitter]
Word of the Week
Chekhov's lesbian n. The principle that every reference to a minority in a fictional story must be relevant and irreplaceable. [This is a play on "Chekhov's gun," the Russian short-story writer's famous dictum that memorable story elements should also be necessary and relevant (see this week's Quote, Words, Unquote).]
Okay, let's codify it — Chekhov's Lesbian: if a character in fiction is portrayed as a member of a minority group, that character's minority status must become a relevant plot point before the end of the story. (Term used sarcastically.)
—Darren Garrison, "Pixel Scroll 5/19/16 I Am Not In The Scroll Of Common Men" (comment), File 770, May 20, 2016
Cruft

*

of the Week
canstruction n. A structure made from tin cans. (cans + construction) [Spacing]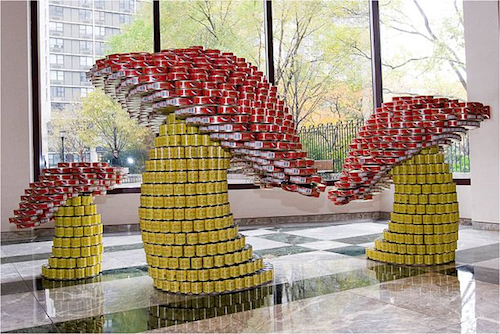 A canstruction called "A Fungus to Feed Us." Source: Wikipedia
* "Poorly built, possibly over-complex; generally unpleasant" —The Jargon File.
Quick Links
Word Spy Press
As the release date of Technically Speaking gets ever so close, remember that you can pre-order the book at a discounted price. Word Spy Press is also offering ridiculously low pre-order pricing for Quote, Words, Unquote and The Word Spy Guide to Bad Behavior.
| | | |
| --- | --- | --- |
| Coming June 1st! | Available July 5th | Available August 1st |
Quote, Words, Unquote
"Remove everything that has no relevance to the story. If you say in the first chapter that there is a rifle hanging on the wall, in the second or third chapter it absolutely must go off. If it's not going to be fired, it shouldn't be hanging there."
—Anton Chekhov